Begin personalizing your song by selecting a song style (or have the artist surprise me).
Step 1. Choose a song style
Step 2. Customize your song
Songs cost $179 USD
Payable in your local currency
Partial payments now available!
Our musicians have over 45 years of experience writing, recording, and playing live music in front of music-loving people. We've sifted through hundreds of applications to find the right musicians to make the perfect songs with you!
Founder / Musician / Production
Writing poetry and lyrics has been a part of Griff's life from an early age. Growing up with a multitude of musical influences, he has created a sound that is unique that reaches across many genres.
Griff has been performing at backyard BBQs, dive bars, and opening for touring acts since 2007 in California, and now Hawai'i.
Outside of music, Griff has worked on numerous independent sustainability films, a web-series for PBS (Under H2O), and won an Emmy for his work on the Netflix documentary Chasing Coral.
Melanie is a singer-songwriter from Pennsylvania. She started by performing in musicals in high school, but began taking her guitar on stage at open mics in Pittsburgh, and continued to do so while living in Honolulu.
Melanie was a part of the Hawaii-based groups The Mankeki Nekos and The Dirt Squirrels for a few years before moving back to Pennsylvania, where she now plays guitar, sings, and writes for Violet Coup and The Soul Grooves
Carlos has collaborated with musicians and bands from nearly every genre. His passion and love for music, and constant positivity has helped shape him into a amazingly creative musician that will elevate any song into something truly special.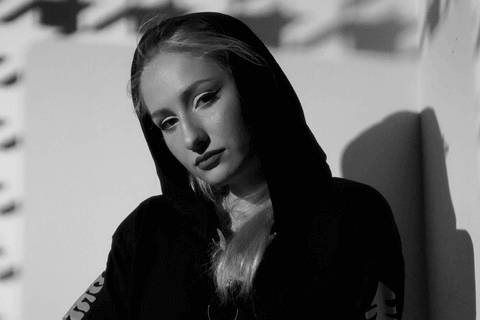 Lina Cooper is a 23-year-old songwriter, artist and producer based in Los Angeles, CA. She was born in Donetsk, Ukraine, but moved to the US and is a recent graduate of Berklee college of music and a self-proclaimed "Yellow Manic Pixie Dream Girl".
Lina now also works as an assistant manager at Paramount Recording Group working with both American and European publishers as well as releasing and performing her own music.
Born and raised in Honolulu, HI, Shayne is a multi-instrumentalist musician who started playing classical piano at the age of 5, picked up the violin at age 10, and the guitar at age 13. Shayne was playing in bars with his father from the age of 14, played in several country/rock bands in Colorado, and you can also find him playing live music with a couple of bands in Honolulu.
When Shayne is not working, playing music, or performing his fatherly duties, you will find him enjoying a casual glass of whiskey with some friends and his wife on game night. He also loves beach days, hiking, and playing tennis in the warm tropical sun.
Musician / Vocalist / Producer
Miya King is an LA based singer-songwriter and producer. She relishes in romance and playfulness and has a knack for lush and sweeping production.
Her talent is undeniable, and she has a beautiful voice that captivates anyone who hears it. Miya's voice is soulful and powerful, with a range that can hit high notes with ease and stir up emotions with every lyric.
Dave has been recording and playing music for over 20 years. As well as composing and writing songs, he also makes soundtracks for film and TV. He is able to write and compose anything from laid back acoustic songs to sweeping orchestral scores.
Born in Britain to an Irish family, music has always been a crucial part of his life. At age 6 he was given a vinyl player for Christmas (in the age of the CD), so he could listen to his parents Beatles collection. He is able to play most things purely by ear.