We get it. You don't write or play music. We understand not everybody is musically inclined, but we believe anybody should have the ability to surprise someone with an incredible and thoughtful gift.
Whether it's a birthday, an anniversary, a holiday, or just saying I love You, we're excited to be a part of your special occasion. We hope you choose SONGS WITH YOU to create a truly meaningful song that we know they'll love.
At Songs With You, our full-time artists write, record, mix, and produce each individual song. Our authenticity and care for each song is what makes your gift so personalized. Your thoughtfully curated song will surely bring smiles or tears to their faces, and we are excited to create a song with you.
Songs With You believes in fair and honest practices, happy customers, and great music.
Founder / Musician / Production
Writing poetry and lyrics has been a part of Griff's life from an early age. Growing up with a multitude of musical influences, he has created a sound that is unique that reaches across many genres.
Griff has been performing at backyard BBQs, dive bars, and opening for touring acts since 2007 in California, and now Hawai'i.
Stemming from his work as an educator, he witnessed first-hand the many kids who need extra attention, confidence, and love.
Griff's primary goal with his music is to make people happy and spread positive energy. This is why he created Songs With You.
Did you know?
Outside of music, Griff is also the Education director at the nonprofit Blue Planet Foundation, and has worked on numerous independent sustainability films, a web-series for PBS (Under H2O), and won an Emmy for his work on the Netflix documentary Chasing Coral.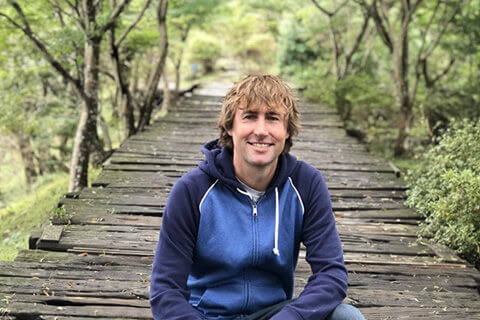 Co-Owner / Marketing / Site Design
As a former customer who saw the enjoyment of gifting music first hand, Justin is now focused on growth and marketing of Songs With You.
Over the past decade, Justin has focused on e-commerce, online marketing, SEO, SEM, and delivering positive customer experiences for his previous two businesses, EasyETA and Best Homepage Ever.
With a new focus on personalized music, he is thrilled and proud to call Songs With You his new home, and help you experience the same enjoyment as he did as a customer.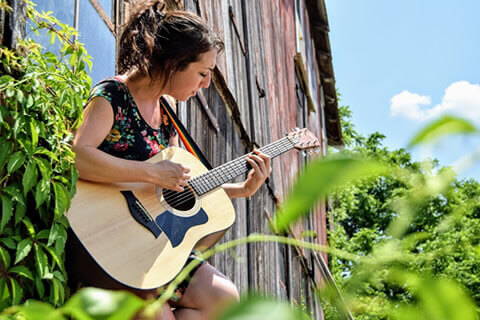 Melanie is a singer-songwriter from Pennsylvania. She started by performing in musicals in high school, but began taking her guitar on stage at open mics in Pittsburgh, and continued to do so while living in Honolulu.
Melanie was a part of the Hawai'i groups The Mankeki Nekos and The Dirt Squirrels for a few years before moving back to Pennsylvania, where she now plays guitar, sings, and writes for Violet Coup.
On the weekends you can find Melanie performing at breweries, wineries, and local events.

When not immersing herself in music you can find Melanie managing operations at Furnace Creek Farm, and in her free time, she spends as much time outdoors as possible, kayaking and camping, and loves to have game nights with friends.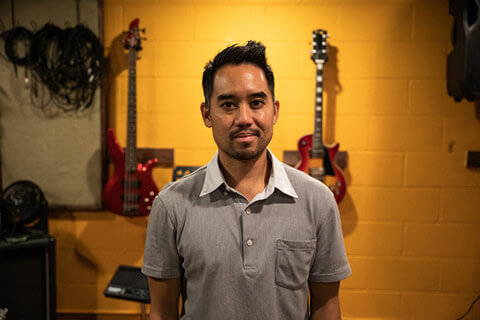 Musician / Production / Videographer
David is a musician cut from the cloth of Honolulu, Hawaiʻi. He found passion for music early in life, learning to play the piano at 5 years old, and later picking up numerous other instruments, including trumpet, ukulele, bass, and guitar.

David has spent the last few years performing solo acts a venues across Honolulu. However, what he enjoys most are backyard kanikapilas (jam sessions), and creating music with friends.
David draws inspiration from an eclectic blend of classic big band, R&B, country, and Hawai'ian music. He hopes to use his diverse musical background to create songs that are unique to you.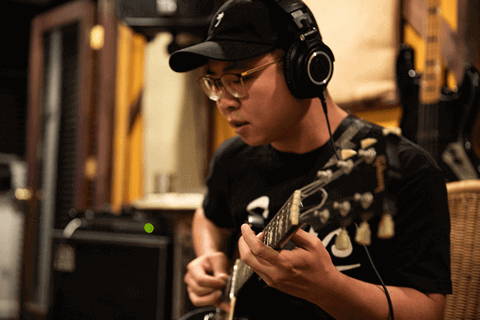 Software Engineer / Marketing
Music has been a big part of Jacob's life, beginning with learning Blink 182 songs by ear on his ukulele at the age of 10. He furthered his career by opening for nationally touring acts around the West coast.
His musical interests range widely from the blues, to metal, to RnB. Guitar and bass are his primary instruments, but he dabbles in drums and percussion as well.
As a graphic designer, Jacob has spent over ten years working for agencies, in-house, and as a hired gun in a variety of industries.

Jacob is a graphic designer and musician born and raised in Honolulu, Hawaii and currently is residing in Los Angeles.
Did you know?
When he's not tickling strings or pushing pixels as a graphic designer, Jacob enjoys snapping photos of California's vast landscapes and climbing things.
Marketing / Design / Social
Charlotte is a digital media enthusiast from Spain. She's quite the traveler, as she was born in California, raised in Spain, completed her Bachelor's degree in the UK, and is now living in Honolulu, HI.
She has always had an interest in creative activities, as, at the age of 7, she would borrow her parents' camera to take photographs of anything she could, alongside taking art classes to practice her painting and drawing skills. This all led to Charlotte developing a fascination with graphic design and branding during her high school years -- leading her to pursue a degree in media and communications.
When she's not spending time on Photoshop and investigating all of the platform's features, you can find Charlotte driving around with her friends, discovering new places to explore, or probably on Pinterest, learning about all the new trendy aesthetics.
Did you know?
Charlotte interned at the Tokyo 2020 Olympics where she worked as a part of the Broadcasting Service team and met world-famous American gymnast, Simone Biles!